Hi there everyone! I am new to posting but have been reading the forums on and off for about a year.
I've had acne for years, I am 24 and it's increased exponentially for about the last 5 years. As a teenager I would have a pimple and it would be no big deal. Now I always have one or two or five. I had blackheads whiteheads and cystic pimples for about a year before I visited the derm.
I told him I tried everything over the counter possible. Drugstore stuff. Expensive sephora and ulta stuff. And proactiv. None of it worked. He put me on one daily dose of doxycycline 100 mg and tretinoin at night. After three months it still wasn't great. He urged me to try accutane but I am scared bc I have heard terrible things. He then prescribed me clindamycin lotion to use every morning.
Now, seven months after initially going to the derm, I must admit it's a little better. I only have a cyst now and then. But I still have little dots And bumps and clogged pores all over. I significantly reduced the amount of makeup I put on as well. It's limited to mascara eyeliner and if necessary a touch of concealer. The worst part is when people try to tell me I don't have acne or that it's not that bad. I know my face. I am the one who has to look in the mirror everyday. It shouldn't be like this.
I should also mention I have been on numerous different types of birth control and none make a difference negatively or positively. I am currently on the depo shot.
I am about to throw in the towel. I am so unsure about accutane and it's apparently very expensive too. Anyone have any alternative suggestions? Open to anything. Thanks
The pic keeps coming up upside down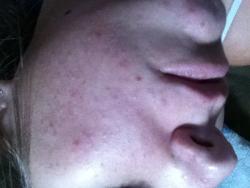 Edited by Jennlynette, 19 August 2013 - 03:13 PM.