Hi All,
I thought I'd log my progress on Isotretinoin on here in the hope that it may prove helpful to others in similar circumstances.
A bit of history first.....
I am a 31 year old Male from the UK.
I have suffered with skin/acne problems pretty much since early teenage years, mainly suffering with breakouts of large, inflamed cystic acne (bordering on boil looking things when bad!!).
Breakouts over the years have tended to be between 3 and 6 times a year ish but due to the lengthy healing time, my face is rarely clear if ever. It feels like I either have live inflammed acne or am healing from it at any one time. 
I have tried various treatments including OTC stuff (useless), BP, Oxytetracycline (two separate nine month courses), lymecycline (six month course) plus things like diet changes etc to no avail
Over the past 8 years or so, when breakouts have been particularly bad and the cystic acne became uncomfortable/hot/infected (usually accompanied by swollen glands/tonsils etc), GP would prescribe a weeks worth of antibiotics such as amoxicillin,   flucloxacillin, coamoxiclav etc to curtail - this would generally yield a quick result of relief of acne/cystic symptoms within a few days.
Over christmas last year (2012), I had a particularly bad infected cyst under my eye and on my jawline that would not respond to antibiotics so GP referred me to Derm.
Derm appointment (on NHS) took 7 months to come around and finally came through for 1st of August 2013.
Day 1 - 1st August 2013
Met with Derm and whilst my skin was unusually clearish (see pic below), the scar evident from the nasty bout last christmas (circled red in pic) and my age/length of struggle with Acne prompted derm to suggest Isotretinoin off the bat.
I weigh 77kg and started that day on 40mg dose daily, (2x20mg tabs taken at same time each day) with a view to a 5/6 month treatment.
(above pic is a few days before Day1)
Week 1 - Nothing much to report apart from the quick (within 48 hours) onset of very dry lips.
Week 2 -  Have broken out in a couple spots (one quite large one on just under my lip on the right had side of my face - you can see the swelling it's causing in the pic below) and have VERY sore/dry/chapped skin around mouth, cheeks & chin.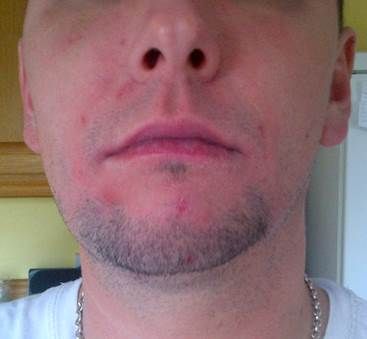 (above pic is a Day 11)
Week 3 - Got some Cetaphil wash and moisturiser on the recommendation of the pharmacist and this seems to have helped massively with the dry/cracked skin on face and lips. Still dealing with the large (and painful) acne cyst under my lip and above beard line which is now in full swing.
Hoping this is the "initial breakout" so reasonably happy/optimistic that things will get better in the coming weeks/months despite the hideous look at the moment. 
Also, Blistex 'Medpro' seems to be doing a better job than Carmex for the cracked/dry lips.
Week 4 - Initial breakout is now all but healed and skin is looking not too bad but still quite dry and 'uncomfortable'. No let up in the dry lips either.
Week 5 - Saw derm for 1 month appointment this week. Bloods fine so dosage now upped to 80g per day. Skin is still quite dry and often sore with what spots/blemishes I still have from the IB looking quite sore due to the dryness/tightness of the skin on my face and neck.
--------------------------
Will keep updating as I go. Hope this turns out to be useful to a fellow sufferer 
Edited by Charlie99, 31 August 2013 - 04:14 PM.