Hi, first of all I wanted to say that I'm sorry for the long post, but please bear with me...I started Accutane 2 months ago due to my ongoing battle with acne. My face used to be covered by acne but I didn't take accutane soon enough to fight it, so I believe I ended up with the hyperpigmentation. By the time I started accutane, I had the hyperpigmentation ALL over my face, and I believe I wasn't getting many new acne, so I guess that the hyperpigmentation had replaced the actual acne disease, but I still had to fight it.
I consulted a doctor that finally decided to put me on the medication and here I am after two months. I was very secure that Accutane was going to clear my skin from the red marks but from a research I did on this forum a couple of hours ago I became paranoid, because almost everyone was saying that accutane makes your pigmentation worse. The thing is that accutane has made my skin A LOT better from what it used to be, but I want to know, will the medication strengthen the pigmentation of the remained marks that I have?
Now I want to point out something, that during these 2 years that I have started taking the pill, I have NEVER went outside on the sun, not even a single day. Even at about 5-6 PM or later, when I *occasionally* went out, I ALWAYS applied sunscreen of 50SPF. So I am totally protected from the sun, does that mean that I'm safe?
Lastly, the whole point of the thread: My derm told me to keep taking the pill for another month (I've been on 40mg/day for 2 months, so that'll be 3 months by the end of August) and then take it for one more month at 20mg/day only. She kept insisted that I should end it on September, so I was considering to pay for the medication on my own and end the whole course, so that I'd receive the full dose for my weight, which is 65kg. So that'll be 3 more months at 40mg/day.
Before doing this, I wanted to ask your opinion, is it pointless to keep taking accutane, should I stop taking it, wait a couple of weeks and start treating my hyperpigmentation with fading creams and whatnot? I really DON'T want acne to come back, but I believe that my acne was gone before I started taking accutane because:
1) I wasn't getting any pimples even 1 month before taking the medication.
2) I haven't had *any* pimple, NOR an initial break out during the entire time that I have been taking accutane.
Does this mean that I'm somewhat "cured" from acne, but have the hyperpigmentation left?
I'm attaching pics below. This is the cut-out of my face, mainly cheeks and jaw area before starting accutane. You can see that the red marks had taken over my face.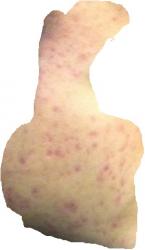 The next two pics are of the same area and are taken in the same day, about a week ago, so 2 months after accutane. I guess you can see the difference.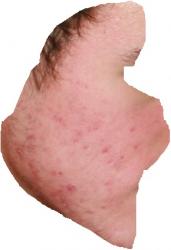 What would you suggest
? I'm so confused... 
Edited by Keyboarding, 07 August 2013 - 07:47 PM.