Hey All!
So I'm finally starting an actual regime to target my acne.  I was supposed to meet with my new dermatologist at the end of last month, but I unfortunately wasn't able to make that appointment.  I'm now scheduled to meet with her on July 15th, and I will hopefully begin the process to be put back into the I-Pledge program and go on my second round of Claravis (accutane).  I'm excited because she is a huge advocate for accutane, and my last dermatologist wasn't so she kept me on a very low dose for the entirety of my treatment (I think this may be why my success was so short-lived with accutane).  For the moment, I've refilled an old prescription of Retin-A Micro 0.04% (tretinoin gel), and I'm starting my first day of treatment today.  I haven't had success with Retin-A Micro in the past, but I'm desperate for relief so I'm giving it another shot.  I'm also taking Ocella birth control pills, but I've been taking them for over a year so I'm not expecting them to contribute to any success I may find.  During the month-long waiting period before I start accutane, I'm hoping to also be put on antibiotic; it will most likely be doxycycline, but I'm going to ask about lymecycline because I've heard good things about it.  Anyway, I will post updates weekly or bi-weekly.  It's hard for me to post these pictures because they are not flattering at ALL but seeing other people's success has given me hope, and I'm hoping I'll also find success and give others hope as well.
- Megan
Acne History:  I've had acne since I was 14, and I'm now 24 years old.  My dad says he had acne until age 23, and my older sister also has acne.  I've tried the Regimen, Proactiv, Retin-A Micro, Differin, accutane, and pretty much every over the counter treatment out there.  I had the most success after using accutane, but my results lasted only about 3 months after finishing treatment.
Here's my current regime:
Morning:  wash with CeraVe hydrating cleanser, moisturize with CeraVe moisturizing cream.  I also often wear a powder foundation during the day.
Evening:  wash with CeraVe foaming facial cleanser, apply Retin-A Micro 0.04% gel 20-30 minutes after washing face.
Other:  currently taking Ocella birth control pills.
Day One (6/9/2013):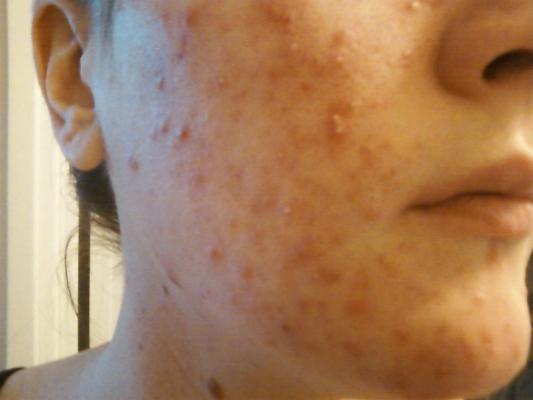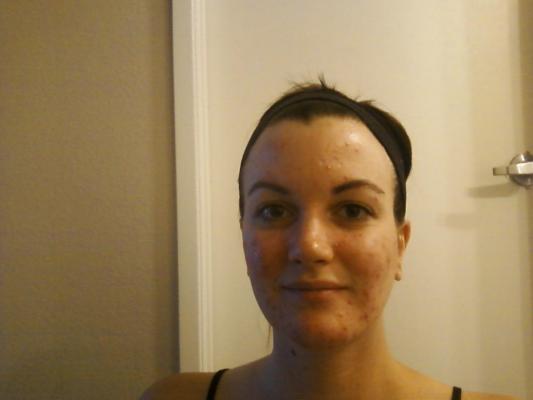 Edited by megelizab, 09 June 2013 - 03:24 PM.