Hey everyone! I've been on this site for years and I'm FINALLY starting the regimen. I started having acne when I was 13, and it got a lot worse after once I turned 15. In the spring of my sophomore year of high school after trying out multiple over the counter products that didn't work, I went to a dermatologist. My dermatologist gave me Aczone (a topical antbiotic) to use in the morning, and Epiduo (adapalene and 2.5% benzoyl peroxide) to use at night. The medications I used worked pretty well, and I was decently clear up until the beginning of my senior year. After that however, things went downhill. I started getting more and more acne out of nowhere despite using my medications the same way the whole time. I had no idea what was going wrong, and why my acne came back. In the beginning of summer 2012, right after finishing senior year of high school, I decided to stop using my prescriptions and try something else. 
This is when I went on my failed holistic journey.
I looked into the connection between diet and acne, and I researched/watched tons of youtube videos on foods that cause acne and how the digestive system is related to acne. I learned a lot about what foods to avoid and why, and how some foods can help acne. This grew into an obsession. I tried many things from cutting out all dairy/wheat/soy/sugar from my diet, to drinking a few tablespoons of apple cider vinegar every day (which made me throw up after about a week), to putting salt/vinegar on my face every day, to never drinking any liquids with meals because of the fear of the liquids interfering with digestion. It was horrible, because I would never want to go out and eat with my friends because they would always want to eat fast food and a lot of stuff that I didn't allow myself to eat. I wouldn't want to hang out with anybody, including seeing my relatives, because I didn't want them to see how bad my face got.
Worst of all, my skin was getting worse and worse every week, and in my job (part time karate instructor), some of the kids were saying things like "you look different...it's your face! there's something different about your face!" and "what HAPPENED to your FACE??" very loudly so that everyone could hear, which made me so embarrassed that I would sometimes avoid those specific students during class. And whenever a new student joined the karate school, I would see his/her face squirm in disgust the first time he/she saw me. This made me hate going to my job, and my self esteem and self-confidence got a lot worse.
College was approaching, and at the end of the summer I decided out of desperation to quit trying to cure my acne holistically and to use my medications that I still had at my house. I didn't want to go through another terrible acne relapse, so I decided that if the medications work as well as they did before, as soon as my freshman year is over I will try the acne.org regimen. My skin got a lot better throughout freshman year, and it got almost as good as it was before my acne came back at the end of senior year. But I still remembered how badly my acne came back, and I knew that the medications would eventually lose their effectiveness again (which I think happened because Aczone is a topical antibiotic, and antibiotics usually stop working after a while). 
Now here I am fulfilling that promise I made to myself 9 months ago, to finally start the regimen. I bought the acne.org 2.5% benzoyl peroxide treatment and AHA+ which I will use in a month after my skin hopefully gets used to the BP. I am also using basis sensitive skin bar as my cleanser and cerave moisturizing lotion as my moisturizer. Since the directions say to apply BP once a day for the first week, I will still be using Aczone in the morning and doing the regimen at night. But when week 2 starts, I will be doing the regimen morning and night, and hopefully I can find a good sunscreen to use by then.
Hopefully this will be a successful log (I will be updating it every week), and I want to thank everyone who made their own logs and shared their progress. You guys have really inspired me to start my own journey on the regimen, and hopefully I can get clear skin as well!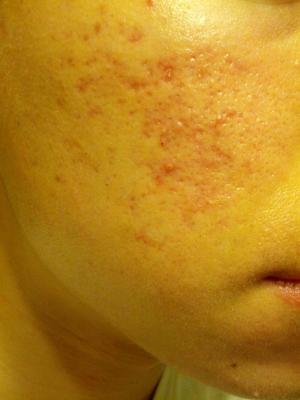 My acne isn't so bad right now because Aczone and Epiduo are decently effective, but the main thing is if the regimen can make my acne even better and if it can be more effective than my previous medications. 
If you want to see how bad my acne was last summer during when I was trying to be holistic, I have a picture of my forehead in my gallery... it's pretty bad, so I don't want to put it on this page because I don't want people to have to look at it whenever they click on this thread haha. 
Edited by AcneIsACurse, 22 June 2013 - 09:50 PM.