Hola!
 
I have had acne for the past 3 years. I hate what it's done to the way I look and ultimately the way I feel about myself  (but I won't spend too long complaining about acne, as I guess you guys all understand completely).
 
I have been on Lymecycline (Tetracyline) and Dianette (BC) for more than 8 months and although I've seen improvements, I'm still getting more acne. More acne means more scarring and the thought of even more scarring is just unbearable, so I've decided to give Roaccutane (Accutane) a go.

Here in the UK, being prescribed Roaccutane on the NHS isn't the easiest thing and my experience with the NHS has been a little complicated, so I won't go into it now but if you're interested then please ask me and I'd be happy to explain
Since I'm female, I had to discuss the whole pregnancy prevention plan, however, since I'm not sexually active, I've decided to opt out of it. My derm recommended that I still continue to take Dianette for the first couple of months of my treatment because she didn't want me to stop it, have all my acne return to how it used to be and then to be hit with an initial breakout from the Roaccutane as well.

I'm afraid that there's quite a few details that I don't yet know about my treatment. I know that I am starting at 20mg per day and my derm has said that this will eventually be moved up to 50mg per day (I weigh 52kg). The thing I forgot to ask (me being a complete numpty) is how long my course will be for but I will ask at my next appointment.
This is how my skin looks today:
This is a picture that I took about a few weeks ago in horrendous light....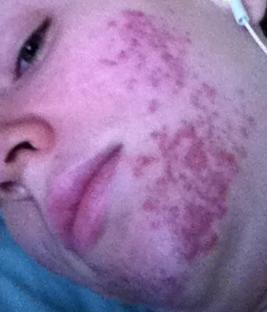 (please excuse the double chin...
 I was lying down!!)
I have been making this decision for the past 6 months and have done literally hours of research before deciding that I'm going to do this. I have learnt so much from reading other people's logs, that I thought it was only fair that I started one of my own and so... here it is!
If you have any questions at all then I'd love to hear from you, just ask ahead! Also, any top tips for a first time Accutane user? Any advice would be much appreciated
Edited by EatsRainbows, 07 June 2013 - 12:11 PM.