Hey,
I've finally managed to get my acne under control (not completely) and think it's time I attempt to combat my scarring. I hold my hands up  to the fact that there are much more severe cases of acne scarring/hyperpigmentation, but of course it's still not nice to have what acne left behind and seeing it there everyday.
The treatments that I've considered are purchasing a 'PMD' (personal microderm), glycolic-acid peels or getting professional laser treatments. Before carrying any of those out, I thought it would be best to get a second opinion from the knowledgeable members of acne.org.
I apologise about the picture, I took it early this morning and haven't had a shave or bothered to make an effort. I'm rocking the hobo look. I'm also VERY pale, which is unfortunately my natural skin tone. I'm pretty sure that I have both indented scars and some hyperpigmentation (I've highlighted which areas I believe are acne scars and HP) and I must also note that it looks much more red and noticeable when I'm in the sun.
Disgusting picture alert -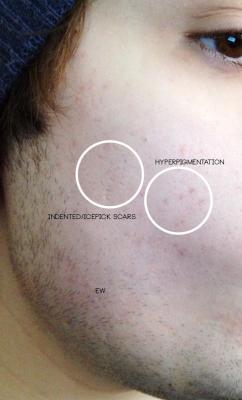 Thanks,
Lewis