Lets discuss this. Please take the time to read my post in full and debate my points.
I've just taken a snapshot of the scars/red marks forum. Marked in red are topics about scars, topics that specifically talk about scars even in the title.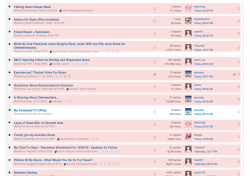 1. Every topic is about scars, except for 1, which actually maybe about scars but I didn't read it to find out.
2. Regardless of whether the 2 forums are merged or not, all those posts marked in red, would have been posted in the scars forum. Because these people believe they have scars.
3. Whether or not they are scars or in your opinion red marks, these members believe they're scars and so they would have posted in the scars forum regardless. 
4. This has been an age old problem, those with scars get angry at those who post in the scars forum. But it's always happened.
5. While treatments for both are different, as you can see, 99% of the discussion is still about scars. It's not as though the forum is suddenly flooded with posts about red marks.
It appears some of you are angry that we believe red marks and scars are the same thing. That is not the case. 
Discuss!