You may or may not have already noticed, but we have a brand new "super" search! I say super, as it really is quite super.
You can jump right in and try it by typing a query in to the search box:

Previously the main search was powered by Google, but as support for this was recently dropped, and the fact it wasn't particularly good, we decided it was time to design our own search engine.
Dan, myself and Vassilis (one of our part time programmers), have been working tirelessly for weeks to create a new search that allows for better and more accurate content discovery.
Not only are the results more accurate but you can now refine the results in more ways and also see results from other sections of the website using the tabs as seen below.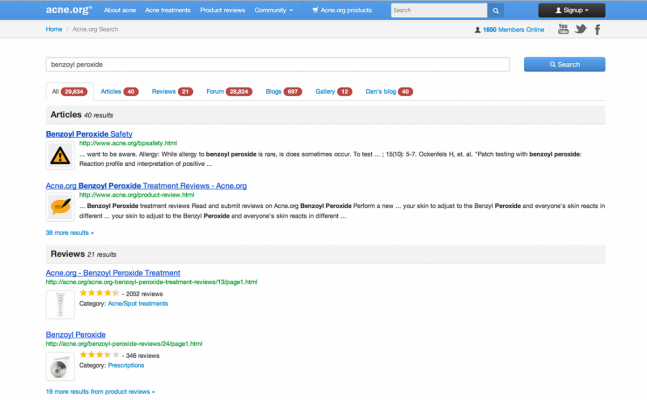 If you search from the homepage or any other article page, you'll be sent directly to the "All" tab, which will give you an overview of results from the different sections of acne.org i.e forums, reviews, articles etc. However, if you perform a search from the forums, you'll be send directly to the forums tab, same for reviews, gallery etc.
The red badges indicate the number of results in the other sections of the website. This is particularly useful if you search a section and little or no results are returned, you can see results from other sections at a glace. 
The reviews section now also takes advantage of the new engine. Rather than being asked to enter a "Brand" and "Keywords" in to the search, you are now presented with a single box. This makes searching reviews much easier. Previously many users were confused as to whether they should enter the term "accutane" in to the brand or keywords box, now that confusion is removed.