How's it going everybody?
I'm choosing not to share any personal information, but I am a 21 year old male college student starting what I think will be a five month course of prescription accutane, specifically Myorisan.
For a little bit of background:
Throughout high school I had very, very light acne. We're talking one or two pimples every now and again. I did absolutely nothing to my face and never even thought about it. Towards the end of my senior year and starting with my freshman year of college, I noticed a significant worsening of my acne, but still not to the point where I really thought about it. I started to wash my face in the morning and at night with several different OTC washes. As I got further into college(now in my third year), my face only got worse. I really don't know what caused it in the end, but I do attribute some of it to an unhealthy diet (dining hall food and lots of beer). Eventually I asked my GP if there was anything he could do for me. He prescribed me Retin-A .025% and I began to use that a long with clearisil face wash. I did some research and was prepared for the initial breakout, but can honestly say for the semester that I used it, my skin only got worse. This past summer, I continued to use Retin-A and after moving to a drier, cooler climate for a few months my face cleared up noticeably. As soon as I moved back to my college town (very humid and hot), I broke out worse than ever. I continued to use Retin-A to try to control it but my condition only declined as the months went by. In November, I decided to make an appointment with a dermatologist and was prescribed doxycycline 100mg 2x a day, and Epiduo (benzoyl peroxide and adapalene). Again, I was ready for the initial breakout as I did a lot of research, much of which was on acne.org. I definitely appreciated seeing the encouraging results that people had with this regimen, but after following it for 2.5 months(November 5th-January 10th) I can honestly say my acne is no better and possibly even worse than before I started. I made another appointment with my dermatologist and was told the only other option would be accutane.
So, as of yesterday I have stopped taking doxycycline and using Epiduo, and begun what I think will be five months on accutane. I was pretty concerned with the initial breakout, so my derm. has started me off with 20mg once a day. I am really hoping that having taken doxycycline up until this point will help with the IB. Anyone have any info on this? Today is my second day taking the pill, so no real results to speak of thus far. I am definitely prepared for the dry skin that it will surely cause, and although I know of the other side effects, I am not extremely worried. I have been drinking about a gallon of water each day, using aquaphor lip balm to prepare my lips, and Olay Sensitive Skin Moisturizer with SPF 15. Does anyone have any other suggestions for things I should do or get? Has anyone used these moisturizers while on accutane and been satisfied? I really would appreciate any advice!
So, here are my day 1 pictures(the first day I took accutane):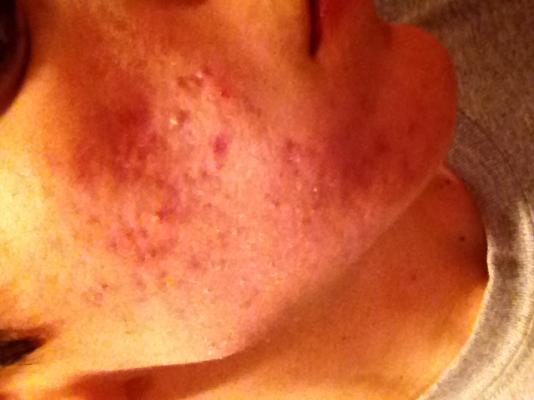 At the moment, my skin is not in terrible conidition, although I do have a LOT of scarring. I know that will take time to fade and that accutane won't really do anything for it. I am really just hoping to be done with acne once and for all and hope that a lot of my scars and current acne will clear up in the next couple of months. PLEASE give me any advice, tips, etc. that helped you or that you can think of!! I will do my best to respond to any questions and to post pictures every week for an update! THANK YOU!