The person in the image is Not me but his scars/ large pores and where it is located is Very Very similar to mine and very munch looks like my skin texture. I have large pores on my inner cheeks on both sides and on my nose and no where else, as seen in the image. This area is Also Oily where as everywhere on my face is Not. (you can pretty much see the border of where the oiliness ends in direct light)
The area where I circled and labelled 1 is the type of scarring that is VERY similar to mine and in the exact same area and on both sides of my nose. I'm wondering if the dermaroller or derma stamp can get rid of those big looking pores and really get my skin to look like the area where I circled 2. If anyone who had these large looking pores and got them diminished/ removed by any other methods
please
tell me!
Original Image: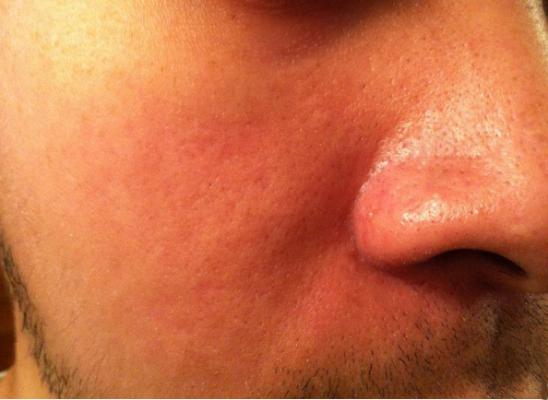 Circled: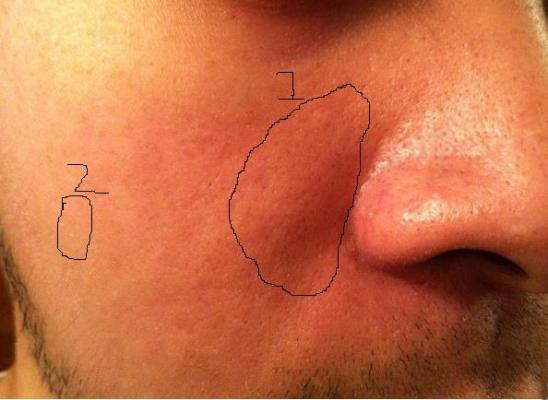 This is a compilation of questions that I have regarding the derma roller or derma stamp that may benefit others too and keep in mind while answering the questions that I'm talking about the 0.5mm needle length.
Please take the time to answer them if you can!
General questions:
1. Which one would be best to use for large pores/ stretched pores, the derma roller or derma stamp?
2. Would derma rolling cause hyperpigmentation? This is the
one thing
that I'm
most
afraid of. When I get a white head and when it goes away, it leaves a red dot, will this happen with the derma roller but all over the area I rolled/ stamped? Should I be concerned?
3. Could the derma roller be used to SMOOTHEN OUT skin instead of evening the skin out. Like can it give a smooth texture for very very small and shallow indented scars?
4. Should I roll/ stamp with a topical on my skin at the same time, such as coconut oil or pure aloe vera? Or should I do it dry/ nothing on my skin after I cleanse?
More in-depth Questions:
1. If someone who has absolutely flawless skin and they derma rolled, Will their skin actually remain the same as if nothing happened or will it actually get 'worse' even if they were extra cautious? People with severe scarring will see improvements but what about those who doesn't have severe scarring uses it, will it get worse if they used a 0.5mm?
2. Once I rolled/ stamped and collagen reforms. Is that collagen only temporary like once I get old will that collagen that I had reformed 'leave' quicker then the collagen in areas that have never been damaged and needed rebuilding?
3. If I get a derma roller, can I treat it as a derma stamp also? Like instead of rolling with the derma roller, can I just press down gently? Will it be effective and OK if I do it this way?
When I first heard of the derma roller, I immediately thought this was Too risky and too harsh for me. I thought needling skin = more scars. It wasn't until I did a bit of research and I now know that derma rolling can be done to any skin type (that's what they said) and can improve it. So I said, why not because I don't think Anything else I can do at home can really remove them or make them smaller.
Also, this person really inspired me to use it for my large looking pores:
https://www.youtube....h?v=b4R7voi8nLc
She uses a 0.5mm which I found out on her website and it doesn't look like it's harming her skin!