Ok so I posted on here a month ago. I have now done tons of research and would like others input. So the first thing is genetics is absolutely not an option as no one in my family has ever had it. We are actually known for our flawless skin. As a teen not a single pimple. Not kidding not even one ( even wearing mac makeup for days on end and not washing my face). I've been in relationships constantly the last couple of years so I never really wore makeup. I started breaking out a little at 18 and 19 ( a pimple hear and there thinking it was the weirdest thing) last year this time I got a really bad break out from my first job ( clothing store) and used pro active and it cleared up there were only papules though but they still cleared up. I stopped using it and around october of this year ( had the worst nervous break down imaginable - the last 3 years just finally did me in) I was also smoking two packs a day. Of course the breakout that occured I thought was the worst thing I'd ever seen. It just keeps getting worse! Especially when I did any antibiotic or laser treatment or for the one week I tried the oral antibiotic. And I don't mean worse like pro active where it brings it out then takes it away I mean worse like made them from small to angry and "bloated" and my whole skin bright red ( like what I already had put on steroids). The stress has been non stop- so many changes, moves, growing pains etc,...These little papules just keep coming and they start off small or not even on the surface at all and end up being pustules and a couple even nodules. I had stated a month ago that I didn't have any on my neck or back but now that just started happening too. And of course they started off so small then got bigger. I already have a new bf so it's not like I'm worried for those reasons but the truth is I have been through so much trauma and there's very few things in my life that haven't been taken away from me. This is so much more than just appearance for me and the effects are so much greater than I can really explain. I used the bp but stopped as it did nothing (didn't make it worse but did nothing) I have now been on a very strict diet, a gallon of water a day, zinc pills, multi vitamin, fish oil pills,and milk thistle ( tons of cigs, caffeine, and monsters over the years). I just am so confused why they start off so small then end up being bigger and more inflamed. I'm now using lerosett and it's definitely helping bring down the inflammation and allowing me to get them to a place where I can pop them and dry them out but more little papules just keep coming. I will only have insurance for another month so I need answers now. For some people it may just be skin for me like I said it's alot more. I litterally can't focus on anything else. Also one weird little side not I'm getting dandruff for the first time too I don't know if that's any correlation. I'm also getting just one or two in the most random places like inside of my fore arm and one right above the breast. Also I'm pretty sure its not an allergic reaction to soaps or detergents or anything because I've switched to hypo allergenic stuff.
The research I've done has made me want to question two things as a cause and I want to know from people who are here to help ( not sell their products)
The first thing I'm thinking is that it may be like fungal follicultus as it did go away and it came back and the topicals made it so much worse I mean like from a level 2 to a level 10 and I've been on alot of antibiotics the last couple of years because I get sick alot when I'm cold especially because I smoke. The second is that it may be hormonal but my periods are super regular but I still plan on seeing the endocrinologist.
I asked the dermo if she could do a cure to see if it was fungal folliculitus or if it was follicultus in general and she wouldn't do it because "acne and folliculitus were the same thing".
So my question is how likely is it that it's fungal and not bacterial like acne? Also if it's 100 percent not genetic does that mean that birth control would be a better solution than antibiotics. Honestly, having my face that swollen bright red again makes me want to cringe. And the oral antibiotics sound awful to do to my body ( yes even though I smoke I don't want to put it through much more)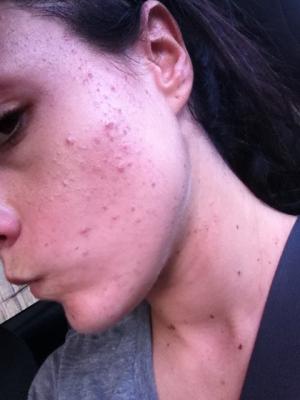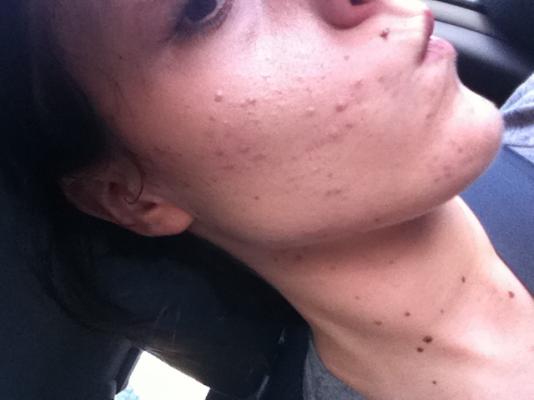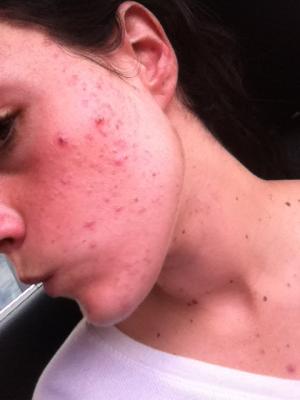 These are from my first post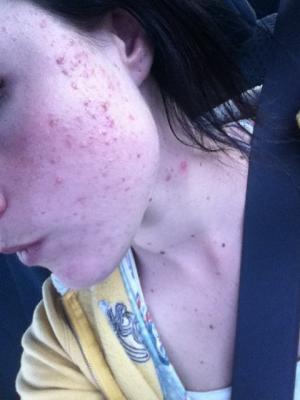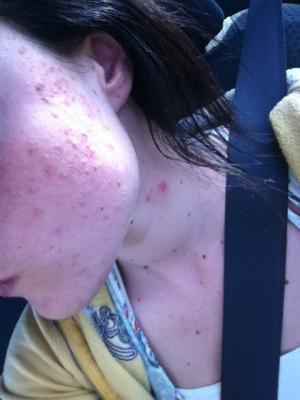 Then this is now... even worse ! =((
I seriously cant even believe 6 months ago I didn't have a single pimple... =/
Also I've done alot of research and since bacteria is only one part of acne I really don't want to do the antibiotics. I'm not looking for a cover up ( laser therapies or extractions or "the right product" to minimize symptoms I really want help finding the cause) I'm obsessed I can't even fully enjoy my new bf or getting my own place soon etc all these awesome things because my perfectly flawless skin has turned into this ( in 6 months too! and it keeps getting worse and i'm so freaked out =/)