Hey everybody!
I've been on the regimen since last Monday, so about a week and a half. My skin looks awful today and for the first time I realized that my acne was actually making a huge impact on my life. I'm depressed and afraid to leave the house and am going back to school in a month. I'm freaking out! So I decided it would help to share my quest with you guys as well ya'll sharing your quest for clear skin with me also. Feel free to message me at any time I'm on acne.org all day.
I started getting moderate skin acne at 17. It didn't really bother me at the time I just chalked it up to puberty. I went to a dermatologist and he gave me 5 % benzoyl peroxide gel and salyclic acid cream for the morning. I was also given minocycline to take day and night. Did this for a while and my skin cleared up completely. Stayed on the BP pretty much all of freshman year and stayed pretty much clear. Kept using it this summer and it seemed pretty much clear. Then I started reading about how benzoyl peroxide could cause premature aging of the skin and I freaked out and decided that I probably didn't need to cream anymore. I stopped using it and the antibiotics for a while and I was fine for a while. My body has been through a lot recently, I got sober 100 days ago. The first two weeks with no treatment at all I had clear skin. I felt amazing, getting sober and acne free at the same time. Then I started breaking out worse than I ever have (This all makes since every since I read that it takes pimples two weeks to form). Anyways I've messed with my diet, am always exercising, I feel like I've tried everything. I am going to try to stick to this regimen for a while. I'm always at risk of quitting because of the fear of what BP could do to my skin, but from everything I read it is generally very safe. I believe there has to be some different cause to my acne then when I was 17, it was pretty dormant for 2 years and then bam. Anyways,
Here is my regimen,
2 pumps of cetaphil gentle skin cleanser
3/4 finger of neutrogena on the spot (I'm only applying it to my chin)
2 pumps of cetaphil moisturizing lotion
I've seen some pimples shrivel up and die on the regimen. Most have come back at least once though. But my skin looks like it has a little less acne which is a positive, but my chin is also beet red. The redness is scary to a certain extent. Here are some pics. Just tell me there is hope I can have normal skin again.
Day 10 on the regimen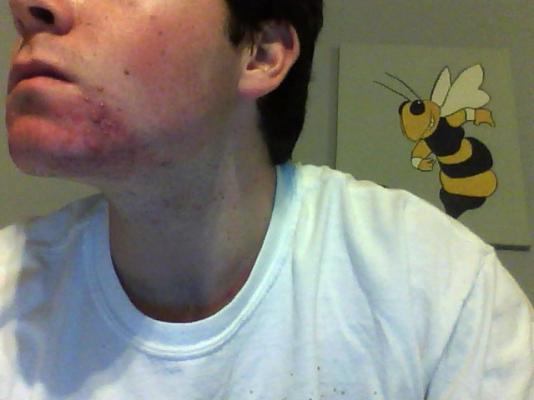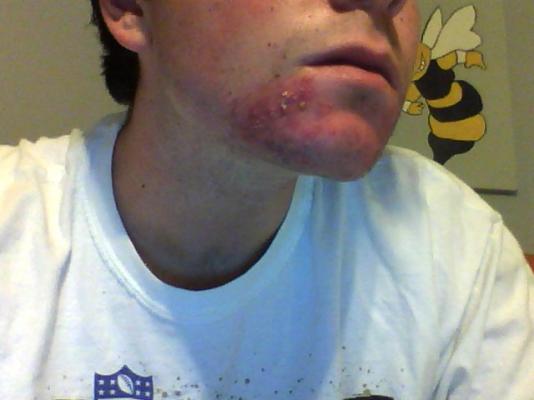 Hope you keep reading my log! I'm ready to beat this thing once and for all.