Hello.
My name is Dennis, 24, 135lbs and this already sounds like craigslist dating section...nvm
Anyways, I've been experiencing some severe acnes around my jaw, chin and neck mostly.
I've tried BP 5% cleansers, creams and Retinoid creams 0.01, 0.03 and 0.05 I believe.
Lastly I've also tried tetracycline...and I still remember because this pill was l
iterally a pain in the a**...mild
but well...move on
Basically had enough with all these stuffs didn't seem to work so my doc referred me to a dermatologist.
Finally got to see the dermatologist last week after about 1.5 months of waiting and
the derm finally gave me a prescription for Accutane after getting straight A+s on blood test according to him (damn maybe i should become a haematologist)
First thought?
Well...if you experienced mild-severe acnes, you probably heard of accutane...and so did I.
But they gave me this big brochure that came with consent form, pregnancy check list and this 20 page booklet about side effects, including this weird unnecessary drawing...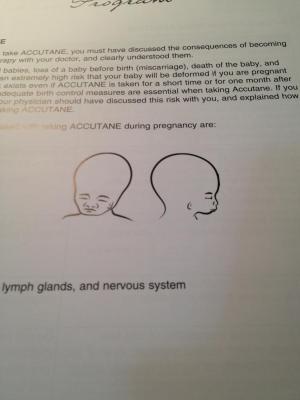 I know some people may have hard time picturing what birth defects are like but really?
Anyways...I was aware of some common side effects including droughts on lips, itchy a** and hair thinning (this is something that im scared le s**tless of...as my hair is already thin and
im not a prince of some country
if you know what i mean)
But I wasn't quite aware of potential initial breakouts, which people seem to suffer the most...
So I'm just hoping that
my balls don't drop
when I get initial breakouts...or just hoping that there will be no initial breakouts.
Well...enough with the mumblings. Here goes nothing.
Day 1
Nothing as I expected..scratched my a** few times throughout the day but this is quite normal i guess
Dry and Cold as balls outside in Toronto already. Got myself a chopstick.
Trying to find more information about initial breakouts...
Some say it may be related to exfoliation so I may keep using Tactuo (BP+Retinoid cream that exfoliates my skin next morning) until my skin can't handle it.
Day 2
No change...slight joint pains but just coincidence...
Getting cold feet about taking this pill...I donno if I can handle the initial breakout...scared the shatless
The dermatologist prescribe me 60mg but most people with similar severity seem to start with 20mg or 40mg at the most...
Starting to doubt if the dermatologist had any experience with prescribing accutanes as he just started his practice this year...
Maybe I should just continue with 10mg and see how it goes down...
Balls
Day 3
A couple of breakouts here and there but not even close to the initial breakouts people experience...
Dried eyes in the morning but im guessing this is cuz of the heater...
Bought few things to prepare for side effects...eye drops, Aquaphor, head and shoulder for men (hair loss!!!)
Exams in two weeks...hope nothing goes wrong during this period...
Edited by denisj, 01 December 2012 - 09:12 PM.