I turned 30 five days ago and couldn't even enjoy my party because of how insecure I felt about my acne. My face was smooth and flawless during my teenage years and then 2 years ago is when I started having a bump or 2 on my face. I would wash my face with just water but then I made the terrible choice of getting a facial that made my face so much worse. I feel like this opened a portal hole for these acne aliens to invade my face.
I've tried Finacea, Differin, Tazorac, Pacnex wash, Clindamycin pledgets, Prascion wash, Clindagel, and Aczone. I remember having good results and stopped washing my face when the tubes or bottle ran out and just started washing my face with just water hoping that things will go back to normal. However, the acne started coming back but I was in denial that my face was that bad that I had to go back to my dermatologist so I went and bought the Murad 30-Day Acne Complex which didn't help my skin. I tried this for 2 months and returned it because 1) it wasn't working and 2) it was expensive.
Lately I've just been washing my face with Cetaphil daily cleanser and use the Biore pore unclogging scrub maybe 1-2 times a week right when I get off work.
I think 3 of the contributing factors of why my acne got worse is:
1. I work a 12 hour night shift = poor sleeping habit
2. I'm in nursing school = stress!
3. I work out intensely 4-5 times a week = sweat
I made an appointment to finally see my dermatologist again after 2-3 years to see if she can prescribe me with Prascion, Differin, and Retacnyl. I've been reading a few positive things about these meds and hopefully it can clear my face up.
Here's a photo of how my face looks right now. The only sides affected are my cheeks. My nose, area around my mouth, and chin is okay (for now and hopefully it'll stay like that). I've googled "cetaphil acne purge" to see if this is what's going on but cetaphil isn't supposed to do that... am I perhaps in denial again?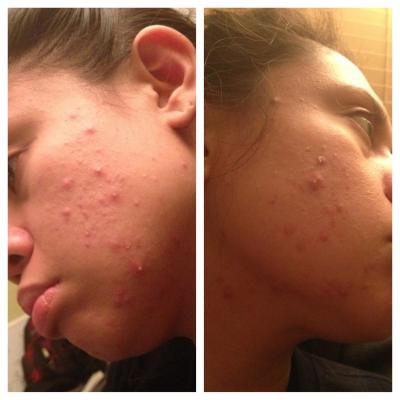 I'll be back to post what the dermatologist says and share my journey with you all.
Thanks for reading! Stay awesome!