After searching all over Los Angeles and Orange County for a year, I finally picked a doctor. I am confident, I found the best doctor using the most effective laser for my kind of scars. I have decided to document my journey so that others know what to expect.
My laser treatment is scheduled for Dec. 4th. I had my pre-op today. The doctor was nice enough to make a special trip to his LA clinic on Thanksgiving weekend just to deliver my pre-op kit and meet with me. His laser clinic is actually located a couple hours outside of LA. Starting my pre-op regimen today will allow me to prep my skin for nearly 2-weeks while also giving me 3-weeks of healing time by Christmas. I made this request at the last minute before Thanksgiving, and am happy he was flexible and able to accommodate my needs.
My pre-op kit includes six items:
* Morning routine *
Glytone Cream Wash - Gentle Cleanser
Glytone Tone - Essential Prep Toner w/Salicylic Acid
Glytone SunVanish - Skin Bleaching 4% Hydroquinone with Sunscreen
Glytone Sunblock SPF 40 - Mineral based w/Micronized Zinc Oxide
* Evening routine *
Glytone Cream Wash - Gentle Cleanser
Glytone Tone - Essential Prep Toner w/Salicylic Acid
Glytone Clarifying Cream - Skin Bleaching 4% Hydroquinone
Glytone Enhance Night Renewal Cream- 0.05% Retinaldehyde + 5.5% Free Glycolic Acid
A picture of the kit: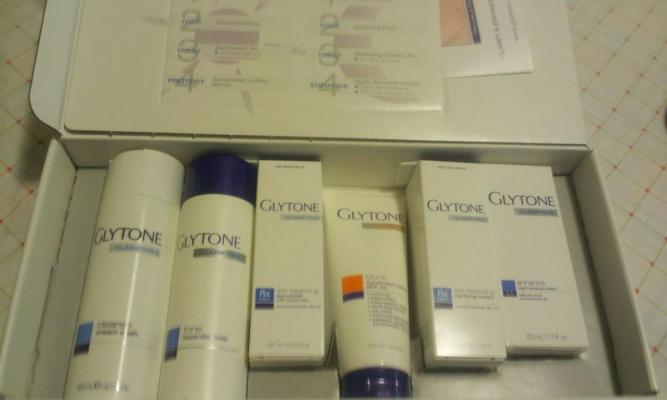 For my procedure, he will use the Total FX "multi-layer" approach for acne scars. First, he will hit each scar hard/deep at 20mj/15% density with Deep FX. He will then pass over each scar again at nearly full ablation with Active FX. Finally, he will do a pass over my entire face with Active FX at a lower density.
Starting one or two days (need to confirm the exact timing) before my procedure, I will start taking an antibiotic and an antiviral medication.
On the day of the procedure, I will be given a Xanax, a topical numbing cream, dermerol shots, and a painkiller (either vicodin or percocet) to ensure my comfort during the procedure.
I am excited and can't wait until Dec. 4th! I will update this thread as I learn more and following my procedure. I can't promise too many detailed pictures though.
----------------------
Dec 3 Update:
Met with my doctor a couple days ago to pick up my prescriptions. I've been given the following:
Doxycycline - Antibiotic to prevent infection - Started yesterday
Acyclovir - Antiviral to prevent cold sores - Started yesterday
Xanax - For anxiety - Will start 1 hour before procedure and then every 6 hours afterwards, as needed
Percocet - For pain & swelling - Will start 1 hour before procedure and then every 6 hours afterwards, as needed
I am not sure I'll need the Xanax or Percocet after treatment, but I have them just in case. I've never taken either. I Googled them and they appear to be pretty strong drugs. I had Deep FX in February, and wasn't given anything for pain or anxiety. I walked into the laser room shaking with fear, and experienced incredible pain from just treatment of my scars. I'm glad this doctor cares about my comfort. I will also be given demerol shots & numbing cream one hour before my procedure. Compared to last time, I'm hoping this will be a breeze to tolerate.
----------------------
Dec 6 Update:
I had the procedure on Dec 4. I took a Percocet and Xanax about one hour before the procedure when they applied the first layer of numbing cream. I was then given a Demerol shot (painkiller) in the arm and 6-8 Lidocaine shots in my face & mouth. After the shots, a second layer of numbing cream was applied. About 30 minutes later, the doctor came in and started with Deep FX. Deep FX was tolerable. I barely felt any pain. He went over my scars only with Deep FX at a setting of 20mj/15% density (I think - am pretty sure). He then followed that up with Active FX on setting 3. I believe the maximum setting is 4 (I don't know why I think this, so it could be wrong. I also have no idea what setting 3 or 4 mean in terms of density, mj, etc.). Active FX has to be the most painful thing I've ever experienced in my life. If you have a low tolerance for pain, you may not be able to tolerate Active FX very well. I actually thought I had a high tolerance for pain, but this was EXTREMELY painful. I couldn't hold my body still during the procedure, and fear I may have forced him to be less aggressive. I am going to ask him about that during my post-op appointment next week. If I had a patient react like me during a procedure, I probably would have finished up as quickly as possible.
For post-op care, I was given a kit by Avene called SOS Post Procedure Recovery kit. A photo is below:
I apply the following a few times a day:
1. Thermal Spring Water Gel
2. Avene Thermal Spring Water Spray
3. Cicalfate Restorative Skin Cream
4. Antirougeurs CALM Smoothing Repair Mask (I'm actually using this one, once a day)
I am not using Aquaphor/Vaseline at this point. I will use those if I run out of the Thermal Spring Water Gel before I heal.
I am looking very scary at this point. I have attached one photo below and plan to delete it in the near future. I just can't leave an image of myself looking like this on the Internet! I actually look ten times worse in real life than the photo reflects. My skin is also cracking at this point with some flaking, and is extremely itchy. The dark areas in the picture are more like the color of a dark red scab right now. The reflection of the light also makes some areas appear normal color when they are actually red & brown too.
Photo of left cheek (this is my worst side in terms of scarring):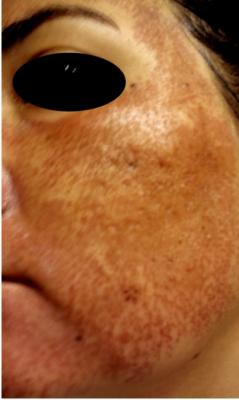 As of now, I can still see my scars but they are shallower. My scars on my right cheek are the hardest to see, so there's no point in posting a picture.
----------------------
Dec 7 Update:
My skin is extremely itchy and covered in small purplish scabs. Sleeping with itchy skin has been difficult. I ended up scratching my face in my sleep, and have since cut off my nails, which were very long. I wish I had thought of this sooner, and bought soft mittens. A little too late now.
Add-on
I am also now using Avene Tolerance Extreme cream for hydration as part of my regimen.
http://www.dermstore...CFcN_Qgodi1QA_w
----------------------
Dec 9 Update:
Over half my scabs have fallen off at this point. Below is a picture of what I mean by scabs: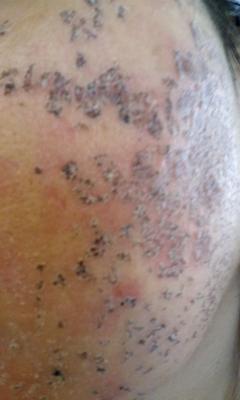 I've written a bit more on this in a post further down this thread.
----------------------
Dec 11 Update:
I've added current photos below, and have tried to keep them as realistic as possible. My left cheek is my worst cheek in terms of wide, indented scars. They're closer to the outside of my cheek, and bother me the most. I have Asian cheekbones. They look awful when I smile. I used to have much deeper scars on both cheeks. If you look at my gallery, you can see I've come a long way after two laser treatments. Hopefully, collagen rebuilding over the next few months will plump my remaining scars some more. I did experience that with most of my scars after my first Deep FX treatment.
Right side:
Looks a little smoother so far but I still have scars.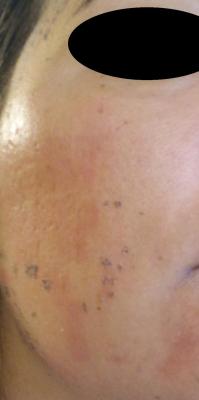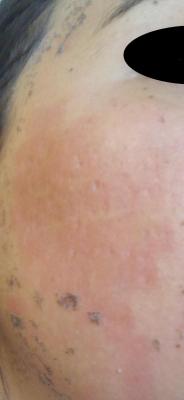 Left side:
The scabs and lighting are exaggerating the depth of the indents on my outer cheek in the second picture. I am doing that intentionally because I was having trouble picking up the indents. The indents are hard to see at most angles. They don't look nearly as bad in person as they do in the picture, and the scab in the base of my largest indent is making it look deeper. These wider indents were caused by TCA Cross, not acne. I used to only have boxcar and ice pick scarring. Some of my TCA Cross indents seem to have vanished, and others have shrunk in diameter. I'm extremely happy to see that. I will likely have to just settle for a filler on these in the future. I'm not convinced laser will improve them much more.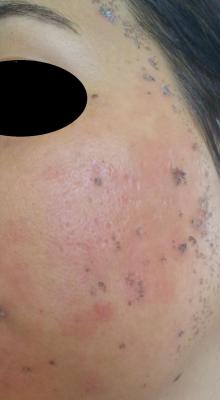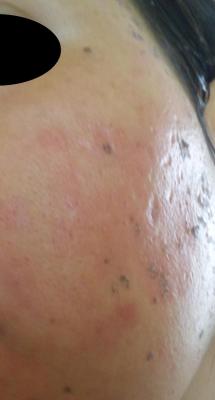 Looking closely at the second pic of my left cheek, you can actually see where my deeper ice picks used to be in the deeper indent. The ice picks are still there but they're shallower. Sadly, the skin just caved around them a few weeks after TCA Cross. It's like I'm going through a process of reversing damage with the hope of getting some of my original acne scars back.
----------------------
Dec 17 Update:
Just a quick update. I am now dealing with hyperpigmentation. It's very difficult to capture the lovely, multi-colored pattern on my cheeks in a photo. The varying colors make my scars & skin texture look significantly worse. I look absolutely ridiculous in person.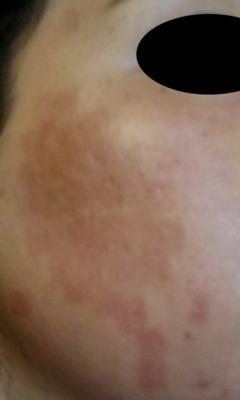 As of this morning, I am using the following to treat my pigment issues:
Cicalfate Restorative Skin Cream for the redness
Glytone SunVanish Skin Bleaching 4% Hydroquinone with Sunscreen
Glytone Clarifying Cream Skin Bleaching 4% Hydroquinone
Unfortunately, I can't use any exfoliants to speed cell turnover until I hit the 30-day point. This is going to take time to fade. I am flying out this weekend to meet with family for the holidays and am dreading that at this point. I can only imagine the comments I'm going to get.
Other than the hyperpigmentation where Deep FX was used, my skin looks great at this point!
----------------------
Jan 6 2013 Update:
Just a quick update. I am not noticing much improvement to my scars at this point. I started using Retin-a a few days ago, and it has opened up my pores again.
I was enjoying the smaller pores. I am still dealing with hyperpigmentation, and am not noticing much improvement to that either. The photos do not give the discoloration and funny blocked pattern on my face justice.
Right side: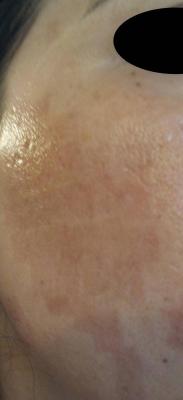 Left side: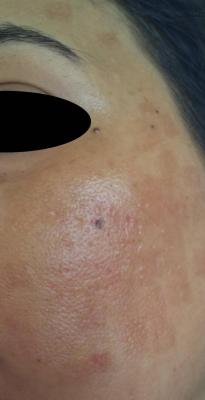 I was pretty disappointed one month after my first Deep FX treatment. I am trying to remain positive about this treatment, and hope to see much more improvement over the next few weeks. Once I get the hyperpigmentation under control, I will be able to take clearer photos of my scars.
More to follow later...
Edited by *Inspired*, 06 January 2013 - 04:14 PM.