About me
Hello all. I've suffered from acne for 15 years. It was cystic in nature, so the dermatologist naturally told me that I needed accutane to solve my problem. He told me that Accutane was the only solution to my problem, and that it posed a 90% chance of healing my skin. The other option was Minocycline, Retin-A micro, and a bar of "purpose" soap. In order to explain acne to me, he cupped his hand into a little "U" shape, and told me that my pores were clogged. I thought to myself, "is this guy serious?" I took the minocycline/retin-a-micro route with the soap containing "Sodium Laureth Sulfate" and watched in horror as my skin worsened.
My acne was severe, and cystic in nature, along with surface pimples. I encountered clarity when I decided to follow the regimen, but it was a cycle of oiliness, burning, and irritation. It was like a savage war with the odds, by burning away bacteria on the skin surface. I knew this was not the final answer. Everything about this method seemed to point to "damage control." Controlling skin damage on the surface is not a path to health. I feel the same way about Accutane (birth defects? what?)
I turned 30 a few months ago, and began to seriously evaluate my life. What was I doing wrong, why do I still have cysts under my jawline and behind my ears?
Current Progress / Latest Photo (11/9/2012)
Here's my current face. It isn't porcelain smooth, but I can tell you that it's better than anything I've had before.
I wish I took a photo about 3 weeks ago. My face was more swollen before the diet.
My Data Log
I'm a programmer by trade. Naturally I took an engineer's approach to my problem. I didn't have the time to code up a template so I decided to write down everything as a log (whoa, a pen and paper?). I do have some meager drawing skill so this was actually kind of fun. The plan, though, is to make a website that allows a user to create this log for themselves with minimal effort. I hope to get users comparing data. Hopefully we will find something.
Here's a page of what I've been doing for the past two weeks :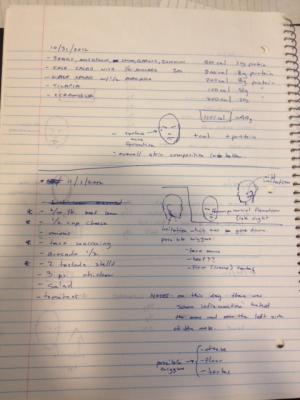 Did it help me find triggers? Yes! An asterisk indicates suspicion of a certain food.
I realize there are many flaws and errors with my method (Correlation != Causation), but it's better than blindly shooting in the dark.
Notes
My diet aims to do the following :
- decrease inflammation
- regulate blood sugar
- heal gut permeability with good fats and cholesterol
- increase overall health and immunity
- decrease swelling of the lymph nodes, as well as water retention
My diet has the following restrictions :
- less than 100g carbs per day
- 1500 calories on less active days, more if I'm active
- no processed foods or sugar
- no wheat
- no dairy
Thanks all for reading!
Edited by jarrit, 09 November 2012 - 04:37 PM.