I'm 17 years old and have moderately sereve acne.
The last time I had clear skin was when I was 10. I have tried so many things Rx but nothing ever cleared me up completely so I decided to just use over the counter products and make healthy eating habbits.
For one, I no longer have any dairy. I avoid greasy foods.
I eat mostly eggs, whole wheat bread, whole wheat tortillas, peaunut butter, apples, bananas, almond milk, soy milk (vanilla), avacodes, meat, oatmeal.
Just yesterday I made a toner of apple cider vinegar, brewed green tea until dark in color, lots of water, a bit of lemon juice. I've applied it many time since then and my redness is improved and acne made better (a little bit).
I am using Purpose Gentle Cleanser Wash, Clearasil daily face wash, Clearasil vanishing acne cream.
PS
I like to cheap inexspensive and healthy. What are some foods you like to eat on a budget?
Thanks for helping me out.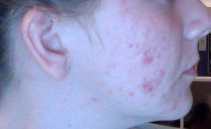 Photo taken last night. Yikes!
Edited by Lilacink, 05 November 2012 - 12:08 PM.