Hello everyone. I have had mild acne since the beginning of high school, though it did seem to mostly clear up when I was around 18. Now I am 21, almost 22, and it is back and worse than it has ever been. This year has been the first time that I have broken out along my jaw line and neck, and the sides of my face have been extremely clogged. So I am assuming this has been due to some sort of hormonal shift.
In the past month I have started using the acne.org BP and AHA. Before that I was using Benzac 2.5% (Which smells disgusting in comparison to the acne.org BP). So far, the BP hasn't helped with the breakouts on my cheeks or jaw line, but my forehead and nose are relatively clear. The AHA has helped with the clogged pores, and hopefully they will continue to disappear.
My left side always seems to break out a lot worse than my right side. Attached is a picture of my current left side at the time or starting Yasmin.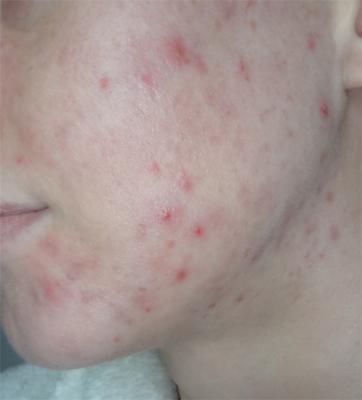 3/10 - It's that time of month, so I started Yasmin today. Currently breaking out in small pimples on left side of my face. No new pimples under my jaw line for the first time in a few weeks, just healing and scars. Forehead and nose are clear.
4/10 - Felt nauseous all day, it was really horrible - hoping this won't be a continuous thing. I can feel a cyst coming through on the left side of my chin.
Edited by jealloupie, 20 November 2012 - 09:26 PM.