Hi all!
I am a 22 year old female who has had amazing, perfect skin her whole life, and I've been incredibly grateful for it. Since coming off birth control around 6 weeks ago, I have been suffering from mild acne, and who knows how to correct this--it's certainly not bad (and I cannot complain, what some people go through with acne is just awful) but enough that I thought I'd ask my doctor about it. He gave me 2 little sample tubes of Epiduo, and told me to 'apply a very thin layer before bed'. So off I went home and I popped some on, and by the first day my chin, cheeks, upper lip and up the side of my face were itchy and light red...and now it's a mess. I can hardly move, the skin around my mouth is on fire, it itches and burns and stings and is so, SO red, dry and flaky. The doctor also DIDN'T tell me not to put it near my eyes, so my eyelids are similar, very dry and cracked and sore. I have stopped using it (haven't in 2 days) and went down to the local chemist, and the pharmacist said she thinks it's an allergic reaction (said at first 'it looks like eczema' and then said 'allergic contact dermatitis'), so told me to take antihistamines and use QV moisturiser. It burns like crazy and feels horrible.
Here's a photo of it at the moment: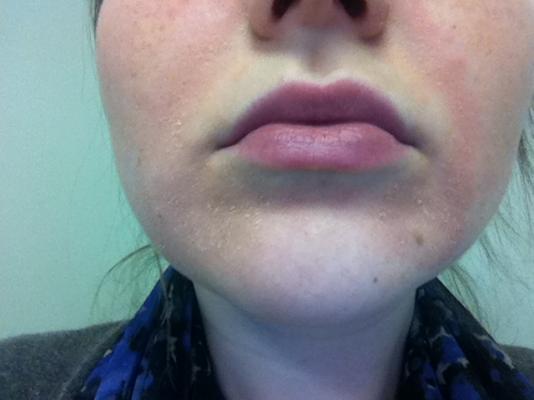 That actually doesn't do it much justice, it's a lot redder than what the image shows (probably because I'm in a room painted green haha!).
Anyway--has anyone else suffered from this problem? Is this a reaction or what's supposed to happen? Any advice??