Good morning/afternoon/evening, depending on where you are in the world.
As some of you know, we're currently working on Acne.org v3 and I wanted to give you all an update and a glimpse of how we're getting on with the new design.
Why a new design?
Well first and foremost, the new design is to make Acne.org fully compatible with mobile phones. We have an increasing number of visitors coming to the website via their mobile phones and tablets and we're first to admit, that besides the message boards, it's not the best experience in the world.
In addition, we want to improve your browsing experience, to ensure you can find the content you want easier and with less clicks and finally, we've worked hard to clean up the overall design to ensure the content is presented in the best possible way.
There are lots of new features that improve the experience of using Acne.org, for example, the main navigation moves down the screen with you as you scroll, much like Twitter.com. This means you can more easily jump to your favorite sections of Acne.org.
Acne.org v3 is a responsive design, which means that it adapts to your screen size, right the way down to a mobile phone. You don't have to select different skins or anything else, the code will automatically detect your screen size and adapt to fit.
Anyway, I could talk about it all day, but as they say "a picture speaks a thousand words".
Screenshots
Homepage:
Regimen: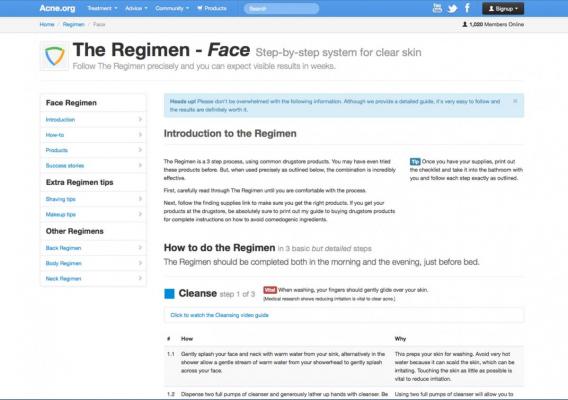 Review page: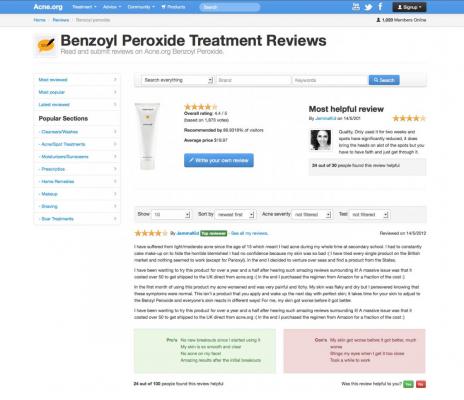 There is a new cleanser logo in the works too, but isn't yet complete, so the screenshots simply show a text only version.
I hope you enjoy what you see so far and you're more than welcome to throw ideas and stuff at us.
Paul