As some of you will know, it was possible to preview a topic by clicking the little down arrow that appeared when you hovered over a topic but the rest of you will have no idea what I'm talking about. That's because it wasn't entirely obvious or intuitive.
Being able to preview a topic, is a really useful feature that we didn't want you guys to miss, so we've implemented a better solution that you've most probably seen elsewhere.
Topic hover preview
, what this means is, you simply hover over the title of a thread and you'll be given a preview of the post.
It saves a lot of time clicking threads, only to find they're of no interest and having to click the back button. Now you can simply browse down the forum and checkout threads in seconds.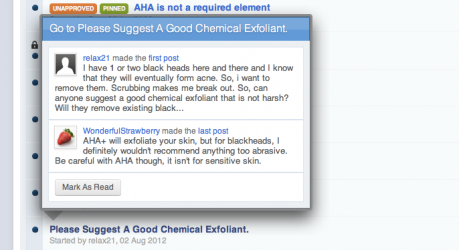 Feedback more than welcome.
Enjoy,
Paul