Hi!
I've FINALLY decided to try the acne.org regimen and I'm starting my log today on DAY 1:
Instructions:
I know we are bombarded with information and sometimes, it takes too long to find what we are looking for. So here is what I will do:
To make it easy for everyone to read my log, I will always post in purple, so you know it's me writting.
Also, I vow to update this log multiple times a week.
I will always include my emotion for the time of post. If I'm clearing it will be a smiley face. Otherwise, expect a sad face. This should help people who want a quick update.
Finally, I will try to write as much as possible in bullet points to faciliate the reading of this log.
Here's about me and my story with acne:
I'm a 26 year old girl
I had never had acne on my face, only on my back
I started taking Diane 35 to control my back acne when I was 17
I've been on & off Diane 35 for the past 7 years with acne getting worse and worse everytime I stopped
Diane 35 worked wonders for my skin and I had 99% clear skin while on it
I stopped taking the pill for good 8 months ago because I was sick of injecting hormones in my body
After a few months off the pill, I started developping horrible cheek acne
As a side note, my face is super greasy and so is my hair because of this pill that messed up my hormones
I also have back acne but my facial acne is so bad that I don't even care about my back right now
Here what I've tried to control the acne and it hasn't worked:
Eating really healthy
Cutting sugar, gluten, dairy and eating salads all the time
Not drinking alcohol
No drinking more than 1 coffee/day
Effaclar face wash and treatment
Tea tree oil (somewhat helps)
Clarins face wash and lotus oil (HORRIBLE don't ever put that stuff on your face it made my acne so much worse).
Not picking at my skin
Changing pillow cases every day
Taking all kinds of vitamins every day (D,B complex, Multi-vitamin,Omega 3s, Evening Primrose Oil, and the list continues)
Drinking a lof of water
Tanning my face (it made it worse)
Sleeping on a silk pillow case
I just received the Regimen starter kit and I am VERY skeptical about it, but hey, what do I have to lose?
Today is my first day starting the regimen.
I plan on applying the treatment only at night to start.
Here's my plan:
Morning
Wash face in the morning VERY gently with acne.org cleanser
Apply acne.org moisturizer VERY gently
Tap on makeup VERY gently (either laroche posay or cover FX and nothing else)
Evening:
Wash face VERY gently with acne.org cleanser
Apply acne.org treatment VERY gently
Apply a lot of the acne.org moisturizer VERY gently
So far, I really like everything, no fragrance and the cleanser feels very gentle on my skin
I also really like the moisturizer. We'll have to wait and see how it works.
Here's my picture today. I'm too ashamed to show my face, but this is the best I can show you.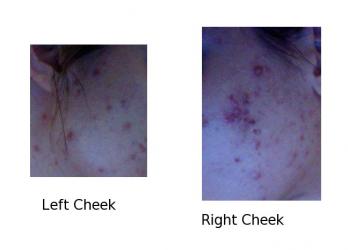 Right now my acne is :
Very bumpy and red
On my cheeks, jaw and neck
My mood right now is optimistic but sad at the same time
. I want this to work sooooo badly.
Acne has taken it's toll on my life and I want to beat it so bad, and then I want to help everyone suffering from it and tell you all my story.
Talk to you soon my friends! I pray this works.
Love,
Mystory
Edited by mystory, 16 July 2012 - 06:03 PM.