Hello,
I posted on these boards before regarding my acne scar treatments. I was doing Lux 1540, but I will be heading back into school this fall and, thus, will have much less time for treatments, thus I wanted to try something faster.
As such, I turned to the Mixto laser as done by Dr. David Rahimi in Beverly Hills, CA. He proposed a Mixto + minor subcision followed by a touch-up after healing. He warned that I would not get rid of all of my scars, that the scars would mostly return by the end of the first month but then get better by around the third or fourth month, at which point he'd do the touch-up.
I am posting this as a blog for my progress and to answer any questions people may have about the procedure itself.
By the way, Dr. Rahimi is probably the most honest doctor I have ever met. When I told him I was already undergoing Lux 1540 procedures, he encouraged me to actually keep going with those procedures at my older dermatologist. But, when I told him about my upcoming schedule, he understood and immediately gave me a bunch of options, out of which I chose Mixto.
His process, as he explained to me, was a little different than others, because he uses a different head on the Mixto laser to "shave down the edges" of the ridges of the scars as well as the Mixto itself. He also did a subcision immediately after the procedure to raise some bound-down scars, which I think was very necessary on the left side of my face.
Also, btw, when I say "harshest lighting I could find," I mean that, each time I took a picture, I went out of my way to find the worst lighting possible for my scars at that particular time with a light coming down from straight above. My bathroom has a single 120 watt pure-white light bulb, which is kind of like a weaker version of the side lights that dermatologists use to find acne scars. This does mean that the angles are possibly off with each picture, but this is the most objective way I can figure to do it, since there is no way the scars can actually look "worse" than they are with the angles I took them.
April 27, 2012:
Day before procedure. Had to take some sort of Doxycyclin the night before in order to prevent infections. I was also given two microdermabrasions each spread a week apart before this point in order to prep my face for the procedure.
I took these pictures under the harshest lighting I could find.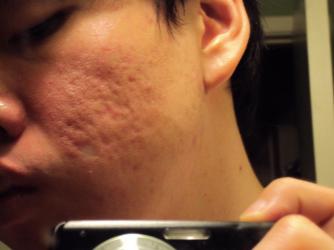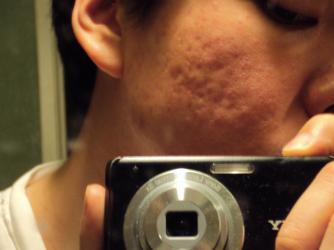 April 29, 2012:
One day after post-op. Here is what it looks like with Aquaphor and crap slathered on. And yeah, it's a ghastly red, I know, haha.
May 9, 2012:
About five days after stopping applying Aquaphor, which means it's been 11 days since the procedure. I've mostly finished peeling. The scars look better, especially on the left side of my face, but they are still pretty evident in the right. It is difficult to wait for the full three or four months to see how these scars will develop.
Some acne broke out, and I was given an oral antibiotic to treat it, but it hasn't worked too well (I've always been pretty resistant to antibiotics). Forutnately, the outbreaks are pretty minor, nothing even approaching the levels that caused the scarring in the first place.
Again, harshest lighting I could find. The left side really is much better.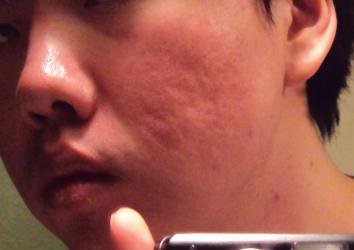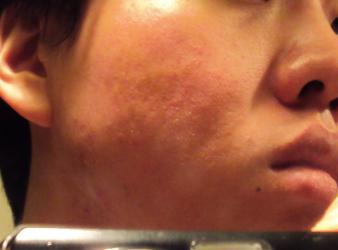 I should add, it LOOKS like there is no redness, but there is. The automatic color-corrector on the camera kicked in for the second picture. The first picture is a better indication of the redness.
May 28, 2012: Happy Memorial Day!
It's been exactly a month to the day since I had my procedure done, here's how it looks so far:
First my left, reflected in a mirror as always.
yeeeeeeah, check out that grody acne. Seriously, though, not much has changed here.
Here's the real interesting side, the right side (again, reflected in a mirror):
This is the WORST angle I could find for my scars. I tried moving in and out, side to side, shifting my head, etc., this is the worst angle I could get.
Now, it LOOKS like there has been a lot of improvement, and there has, but really, it's not as much as it looks compared to my older picture. My older picture was a little blurred, made the scars look worse than they actually were. What you can REALLY notice is the bridge of skin between my two scars clusters, that was not really there before. Exciting stuff.
Anyway, in case you were wondering, this is has been my post-op treatment routine:
Morning:
Shower.
Wash face with cold water and glycolic cleanser. Pat dry.
Sunblock.
Spot treat any acne with Acanya (2.5% benzoyl peroxide/1.2% clindamycin mix).
Night:
Wash face with cold water and glycolic cleanser. Pat dry.
Acanya all over face.
Kojic acid all over face.
Neocutis Bio-Gel all over face (this is my moisturizer, essentially).
Every week, I will forego all of my topicals in the night treatment for a treatment with Atralin (topical tretinoin .05%)
So yeah. Steady as she goes, but there is definitely improvement. Also, the redness is much more noticeable in these pictures because I took off the color correction.
Hope ya'll had a great long weekend.
June 28, 2012
Pretty much exactly two months since I had the treatment. I took these photos last night, when my scars are at their worst after a long day:
Left side (reflected in mirror):
Right side (reflected in mirror):
As you can see, left side still pretty much the same (I'm still wondering why the left side resolved so damn well) whereas there is still room for improvement on the right, but it's definitely getting a bit better. I also have a bit of active acne still ongoing, but it appears to be on its way out, as far as I can tell.
There are some days where they look worse. For instance, on the left side of my face, a slight crater may show up at the end of the day, and on the right it'll look a bit messier, but overall this is generally how they look at their worst.
I scheduled my touch-up for July 28. After consulting with Dr. Rahimi some more, I have confirmed that it is, indeed, basically another regular Mixto treatment (in fact, he said he would be going more aggressively on my right side than last time), except he'll be attacking only the scars and not the entire face. He also said any subsequent treatments, if I would want any, would be $500 each. However, considering that I'll be starting grad school, I don't think I'll have time for more treatments until at LEAST winter vacation, so yeah.
August 11, 2012
Had my second procedure exactly two weeks ago. It was a TCA Peel + Mixto + Subcision, and it was free. Check it out.
(pictures deletes to make room for new pictures)
August 28, 2012
A month after my second Mixto:
Edited by DRaGZ, 28 August 2012 - 03:10 PM.