An Introduction!
Hello, I'm a relatively old visitor and lurker on this site but this would be my first post and I'm kind of a newbie and making logs and things. If this is not in the right place, please let me know-- there didn't seem to be a forum for logging efforts to be rid of red marks or PIH, but I could be wrong. Like I said, I'm new
My skin:
My skin isn't terrible, but it isn't good. For the most part, my acne has cleared up (phew) although I will still occasionally get a pimple or two on my cheeks when my diet goes south or when it's that time of the month. In any case, for the most part my face is clear, with a maximum of 2 or 3 small spots on it at a time. When I don't pick these, they take a while to go away, but I've recently just gotten the picking problem under control (although it does get exacerbated when I'm under a lot of stress). All in all, my skin isn't /that/ bad, it just looks worse than it is because there are a lot of red marks from old acne that has since gone, and my old picking habit which I have done my utmost to stop.
My plan:
What I hope to achieve is to get these red marks to fade faster. I have crept through the forums quite a bit (heh) and found some interesting information. According to many on the boards, red marks and scars go away faster with regular exfoliation, good sunscreen to avoid making them worse, and some people have found success with different products. There are many different things people seem to be trying to fade redmarks faster, and one of the most controversial claims is that vaseline will help with redmarks. So I'm going to try vaseline first! I have some relatively recent marks that I will be using the vaseline on and seeing if it helps at all.
I think what many people have said about vaseline is that the reason it works is that it creates a barrier between the skin and the outside, not so much healing it in itself but allowing the skin time to heal without being affected by the outside environment. According to the threads, people have found that vaseline can be comedogenic or that it can be beneficial, depending on individual skin sensitivity. Today, I did a skin test with the vaseline and found that I don't appear to be allergic to it, so I am going to try applying it to the marks starting today.
People have found the most success applying the vaseline up to 6 times a day in order to keep the skin moist throughout the day and allow the scars to heal. I will try this method (although unfortunately it seems to involve staying home or just going in public with a greased up face!) and see if I notice any differences with this method.
I currently wash with just cetaphil and towel dry, and occasionally will use an AHA lotion that I think has been long discontinued (Sally Hansen's Skin Recovery Oil-Free Lotion) and a couple times I week I will use REN glycolactic radiance renewal mask (
http://www.renskinca...?ProductId=3036
).
I've attached a couple pictures of my starting point. I was wearing some vaseline on my marks in these so pardon the greasiness/shiny appearance, but this is just so you can have an idea of the severity of my current acne/red mark situation.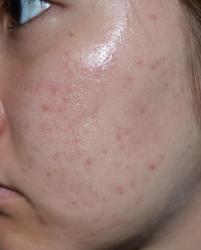 my cheek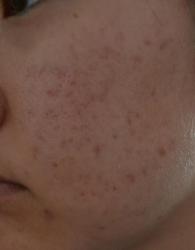 (The same picture as above, but with worse lighting.... yucky red marks!)
other cheek!
So this is day 1, my starting point in testing out the theory that vaseline fades red marks. Also, I guess it's worth noting that I'm using
"Equate: Skin Protectant Petroleum Jelly, 7.5 Oz"
And not just Vaseline brand petroleum jelly.
post if you have any questions about what I'm doing, or with any comments on what I should try! Thanks.