I finally got Roaccutane!
Some background information & how I obtained Roaccutane through the NHS (I'll try and keep it short!)...
Had mild - moderate acne for about 8 years. I'm 18.
Initially used the acne.org regimen which in truth completely cleared me up until I began experimenting with other topical treatments which failed.
When I first went to see my GP I wasn't completely clued up on Roaccutane, but I thought I would ask for it anyway. She would not refer me full stop and sent me away with Lymecycline and to come back in a month for another prescription. I wasn't really bothered since I didn't fully understand Roaccutane.
During that month I continued to research Roaccutane and came to the conclusion that it was something I wanted. I wasn't comfortable with treating my acne with antibiotics and I wanted something that would offer better and permanent results.
One month went by, and I phoned the surgery to book another appointment, but I requested to see a different GP. This doctor was much more sympathetic and after a short conversation agreed that Roaccutane would be a better road to go down, but having only been on one antibiotic he said it was protocol that I try at least two. He put me on Erythromycin and told me this is what they normally give patients before Roaccutane. I was told to return in one month and if I still wanted a referral then he would write one.
I returned one month later and he wrote me a referral. To speed the process up I took my blood tests at the surgery one week after being referred and received a confirmation of my appointment letter the day after. I was able to see a dermatologist within one month of being referred.
I had my appointment today and walked away with two months worth of Roaccutane, starting at 30mg/day (I take two 20mg one day then take one 20mg the next day and alternate like this).
My current skincare routine (see picture)
Morning
Wash with 'Nivea For Men Sensitive Face Wash'
Moisturise with 'Nivea For Men Sensitive Moisturiser'
Evening
Wash with 'Nivea For Men Sensitive Face Wash'
I use Retin-A 0.01% gel on Monday, Wednesday and Friday in the evening, however this may change to twice a week depending on irritation.
Moisturise with 'Nivea For Men Sensitive Moisturiser'
I like to use products that are specifically targeted for men, and I really like the Nivea For Men range. Products covered in flowers don't really appeal to me...
Day 1
I took one 20mg tablet with breakfast and one 20mg tablet with dinner. That
'
s about it for now. Nothing more to report. I still look like a pizza face. I'm still continuing to take Erythromycin.
Here are some pictures I took today (day 1)...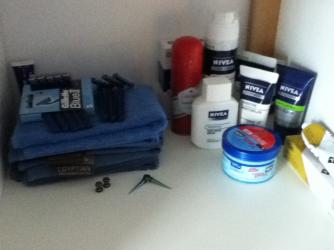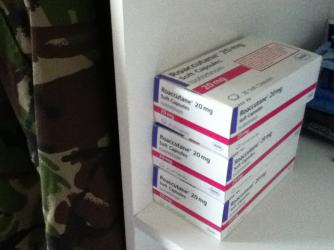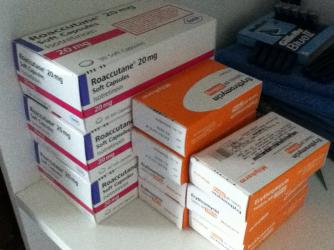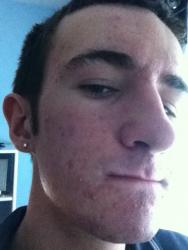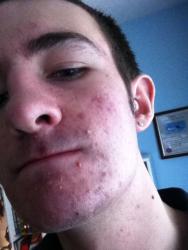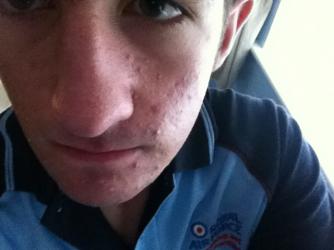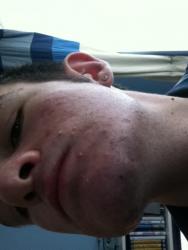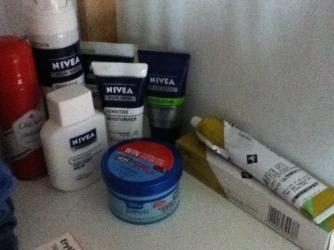 Edited by Avenger, 04 May 2012 - 06:09 AM.