Hey there everyone,
After reading and reading just about everything I could find I've decided to finally start the regimen. A little backstory on me. I have tried literally everything possible with acne. Thousands upon thousands of skin products. I have been on the retin-a, duac, differin, three or four antibiotics, contraceptives, peels, seriously EVERYTHING over the counter. Well, at my last dermological appointment my dermo told me there was basically nothing left to do. But I'm only 18 and my face is riddled with hyperpigmintation, and i have been fighting this one breakout for over a year.
So here I am, starting! While I waited for my regimen to come in the mail I did my own psudo-regimen for about 2 weeks, with Revision Brightening Skin Wash, Salsylic Acid (from OXY), and Aveeno Daily Moisturizer. It worked pretty well, and so here are my starting photos, doesn't look so bad.
Oh and what I have is mostly cystic acne, giant deep pustules that stay for weeks and never ever come out. Oh, and they HURT.
Also, Rosacea. I has it.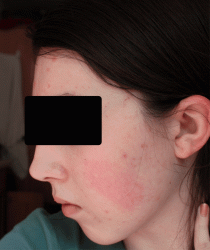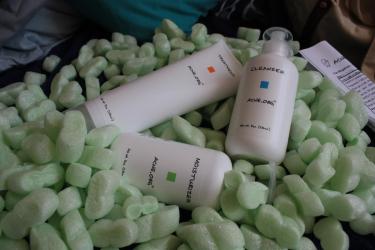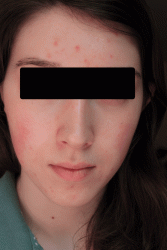 Yay packing peanuts!