Day Two

I was on Accutane in 2009 for three months. I had to stop because I lost my job. Three months cleared me up for about a year, and right after I went on birth control, the acne flared back up. Just recently, it has gotten out of control. I tried antibiotics, topical creams, and have decided that Accutane is my best option. I'm so happy that I have the chance to do another course of treatment.

I can tell that the 'tane is actually doing something already. My face was so itchy last night during class. After my shower last night I had to moisturize my face, because it's already drying out the existing acne. That's a great thing to see after only one day. I'm still breaking out though in certain spots. It seems that the pimples I do have are already starting to heal so much faster. And like I said, they're itchy!

I know it's going to be extremely hard for me not to pick at my face. It is my worst habit & I need to stop it. Last time I was on Accutane, I picked so much, and I had red scaley marks on my face. I don't want that to happen again. More importantly, I don't need more scars. I'm going to try everything not to pick.

This is also kind of random, but I've been having weird dreams. I don't really remember them, but I know they're strange. Maybe it is just stress though.


Edit:

So, I've decided to add a picture of my face (from last week, Pre-Accutane) It already looks better and I'm only on day two!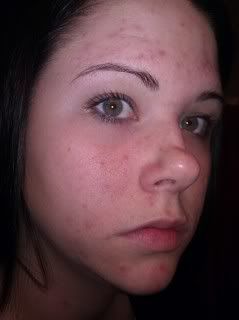 Edited by kaydon, 31 March 2012 - 11:17 AM.