Hey guys, I've been lurking around the forum for months now and since I'll be starting my Roaccutane course today, thought it would make sense to log & share my experience and hopefully find a buddy or two
A bit of background info (if anyone is interested):
Didn't have much pimple or acne problems in my teen or early adult years (I'm 29 now), things started to went downhill from beginning of 2011. For some reason my face started to get much more oiler than usual and I'll be consistently getting pimples around my cheek and jawline area and also clogged pores/whiteheads on my forehead. It was pretty much manageable throughout last year but it got worse in the last 2 months. I started to get cystic acne (the really painful ones that doesn't come to a head and just stay there for more than a week) around my problem areas (cheek, jawline, forehead). I went to my family GP early this year and got prescribed Differin 0.1% and Minocycline. He also referred me to see a Dermatologist but the earliest appointment I could get is in mid-March. So in the mean time I took the antibiotic but unfortunately had to stop after a week due to sever side effect - constant nausea, vomiting.
So one month went by and my acne became a lot worse, it's sore & red and the only area that is clear on my face is my eyes & nose
I finally manage to get an earlier Derm appointment (which is last Monday), the doctor was really nice & understanding and I feel a lot better after our first consultation. We chatted about my health & skin history and at the end he asked me to do a blood test. If all goes well he'll put me on a 6 - 9 months Roaccutane course. Before I start my course, he also had prescribed me on an Antibiotic (Erythromycin) and Steroid (Panafcortelone) to calm my acne down cause they were pretty red and inflammatory! I've took them for a week now and it has indeed calm down my acne a lot – I still breakout and my face is still bumpy but they are less sore and seems to heal much quicker.
Today I had my second consultation, my bloodwork looks fine so the doctor had put me on a small dosage to start - 20mg/day for 2 months (I weight about 45kg, 164cm tall). I'll see him again in two months and if I don't have too much side effects, I'll probably get bump up to 40mg/day. I'm not sure how long my course will be, the doctor said 6 - 9 months depend on how my body react to the drug, I am hoping I could be done in 6 months. I'll continue to take the antibiotic for another month while I'm on tane (I think this is suppose to help the IB), the steroid I'll be taking for one more week then next week I'll need to take half a tablet then stop taking it the week after.
I've heard a lot of negative stories about Roaccutane so I am fairly nervous to be on the course…fingers cross I would be able to power through it and hopefully cure my acne problems.
I'll continue to update this log weekly on my progress and will take pictures when I can.
Here's what my face looks like currently (I look much worst 2 weeks ago, my acne was so red & angry! These photos were taken tonight without makeup)
Right Side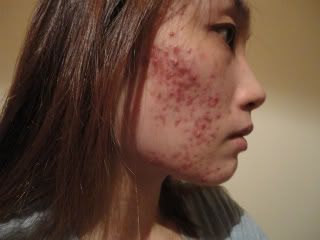 Left Side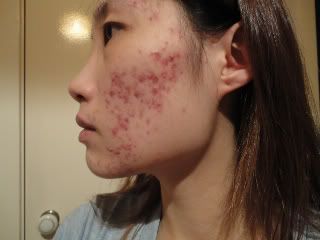 Thank you for reading my story, I am very grateful to be able to find out about this community and am happy to finally find someone that can really understand what I'm going through physically and emotionally.
Take care & have a lovely day J
JJ
Edited by ckbe82, 12 March 2012 - 05:56 AM.