Hi everybody! I'm a 23 year old male that has been battling forehead acne since the age of 20. In high school I was lucky; I never had to deal with acne. Now, all of my friends and family are 100% acne free except me. I even have a twin sister that hasn't had a pimple since high school. I used to get large cysts under the skin on my forehead that would never come to head. Then my acne sort of evolved to hundreds of non inflamed whiteheads and some blackheads across my forehead with about 3-5 a week becoming inflamed. After 3 years, I feel like I am going insane I just want it to stop. I used to read these boards everyday all day. I tried dans regimen for about 7 months and even kept a daily log and it was just too much work for such little results. Unfortunately, I've let acne greatly hinder my social life. I quit my job at the bank so I could work in a nice dark warehouse. I only go out with friends on 'good skin' days and I even stopped going to the gym. Finally back on January 20th I went to a dermatologist for the first time. I was practicing everything I was going to tell her and was anticipating a lengthy conversation. I ended up being in and out in less than 3 minutes, I felt that she kind of just rushed me out the door and didn't take me too seriously. Anyways, she presrcibed me Tazorac Cream 0.05% to use every night before bed. She also told me if I still have the acne.org BP to use that in the mornings.
Well, I'm about 6 weeks in and I can't tell if I am making any progress. My pictures kind of suck because I hadn't intended on posting them online initially, but I needed some input. In the first picture you can kind of see all these whiteheads I mentioned and I believe most of them have gone away. However, my forehead is full of blemishes from inflamed pimples daily. Even this morning I have two new ones. I just want to hear what you guys think! I am getting impatient, especially since my dermatologist told me I should be looking all better after 4 weeks. Not sure why she said that, after all my research it sounds like 4 weeks is when it should be at its worst.
Morning Regimen: Cleanse with Cetaphil daily gentle cleanser in shower. Pat dry face. Apply Aveeno Positively Radiant SPF15 moisturizer. (I only occasionally use dans BP because I've learned to hate it!!!)
Evening Regimen: Cleanse with Cetaphil daily gentle cleanser. Pat face dry. Apply Aveeno Positively Radiant SPF15 moisturizer. Wait 20-30 minutes. Apply Tazorac 0.05 % cream on forehead.
Week 1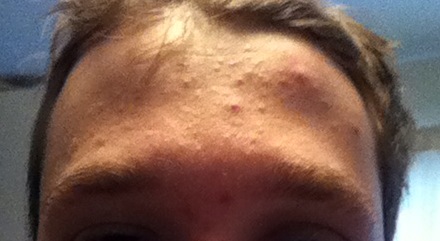 Week 2
Week 4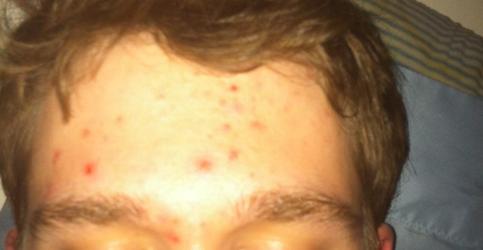 Week 6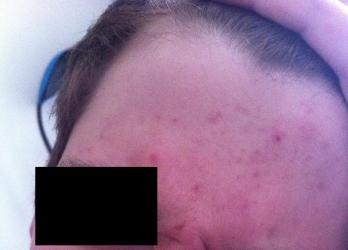 And if anyone is interested to see me keep documenting my progress I can start taking much better pictures.