Alright. Well, I have very much enjoyed reading all the successful logs and honestly those posts are what keep me going. I never planned on making a log of my progress but I have decided to because I want to help others (hopefully it's a successful journey!). A little background on my acne... I began getting acne around 15. It wasn't bad at all just your typical teenage breakouts. I went to a dermatologist around 16 when I started to get some acne on my chest and back. She put me on differin and minocycline. I have since then been clear on the chest and back. I had been on that up until August of last year (2011). I felt the need after I had noticed my breakouts getting more intense. It hadn't occured to me that at age 20 I would still be dealing with acne. The new dermatologist put me on Tazorac, Aczone, doxycycline and gave me some Yaz samples. A few weeks later I switched from the Tazorac to Retin-A Micro due to my skins sensitivity. I finally got up the courage to try taking Yaz. I have always been weary of birth control for fear of weight gain (I have been in recovery from an eating disorder for a while now but still have triggers I struggle with). However, at that point I was willing to try ANYTHING if it meant clear skin. I tried the Yaz for a little over a month and didn't like the way it made me feel. I'm not sure if it was the Yaz or just bad timing, but I began to feel depressed. The depression seemed to spiral that month and eventually I had to withdraw from classes that semester. Since being off of it (again it may have just been bad timing) I am back to going to school and working and feeling better than I had (the hopelessness I feel from the acne is still there of course). 4 weeks ago tomorrow I started seeing a new dermatologist who put me on my current regimen which I will be logging.
Morning:
Wash face with Cera Ve Foaming Facial Wash
Apply Aczone
Apply Cera Ve Moisturizer
Take Spironolactone 50mg
Night:
Wash face with Cera Ve Foaming Facial Wash
Apply Cera Ve Moisturizer
Apply Retin-A Micro
Take Spironolactone 50mg
Extra: I do honey and lemon juice masks throughout the week.
I should probably point out that I was prescribed 50mg a day which I took for a couple weeks, but within the last week I began taking 100mg. My next dermatologist appointment is February 28th, so two weeks. So.. the acne as of late: When I began spiro my skin didn't look too bad, it was a better day. I'm not sure if it was a fluke or an initial outbreak but about a week to a week and a half in I got a pretty bad outbreak that got worse the second week. It was, I would say, one of the worst breakouts I've ever had. It started getting a little better last week, but as everyone knows, a bad outbreak doesn't go away overnight. Things really started to look good this week, until tonight... A lot of zits seemed to pop up in the last couple days... Just as the last breakout was healing.... so frustrating!
I NEVER in a million years thought I would post pictures of my face without makeup on the internet. I don't even let my FRIENDS see me without makeup on. My self-consciousness has been running my life for five years though. Over these five years I've learned that being self conscious can actually make a person very selfish. And right now I just know how beneficial all the other posts that have pictures in them have been for me and I really hope I can help others. Actually the only reason I am doing this is so I can (hopefully) help others. SO fresh out of the shower and without further ado....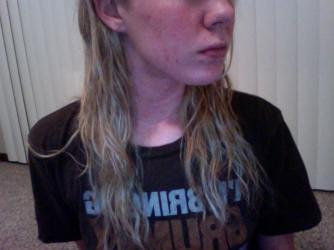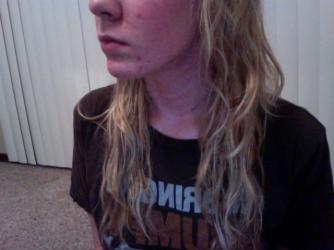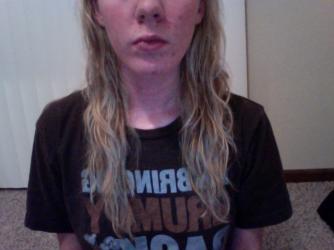 BTW no forehead picture because I rarely if ever get acne on the forehead. I'll make sure to include weekly updates. Best of luck to everyone else on their journey! Don't give up!