I been suffering from acne (facial and body) since middle school. I received some prescription medicine while a teenager but nothing really worked for me. So I stopped using it and dealt with it.
Over the next few years while in high school and college I used only over the counter treatments. I tried salicylic acid, benzoyl peroxide, sulfur and mud soap, Proactiv, fish oil pills, changing my diet, everything! Nothing would work and I always had a face full of acne Finally I got tired of it. Friends and even family would comment on how bad my acne was. I was so embarrassed so it kept me in the house a lot.
At age 22 I couldn't take it anymore so I went back to the dermatologist. Below are pics of my acne prior to receiving any prescription medicine from my dermatologist.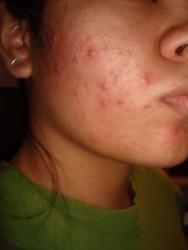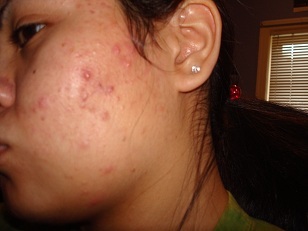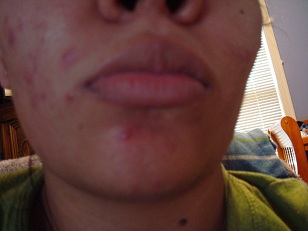 After my first visit with the dermatologist, she placed me on Retin A Micro and Minocycline. It did help some but I still had terrible acne. After 4 months with little to very minimal improvement my dermatologist wanted to try Differin Gel and of course no luck.
My dermatologist finally told me about Tazorac in late 2007. She started me on the lower dosage. Within three months I had seen major improvements but I still had moderate acne with extreme oiliness. At that time she boosted me up to the the highest dose possible on Tazorac. By the end of 2008 my face was decently clear. Don't get me wrong I still had a pimples here and there but my face was nothing like before. The pimples I did receive went away quicker. My face remained very oily but I would just blot it.
During the year of 2010 I maintained my "clear" skin with Tazorac at night and Benzaclin in the morning. I had occasional pimples but in general I was happy. Well except for my extreme oiliness.
Well in early 2011 I started noticing my acne was getting a little worst. My facial routine had not changed, I wasn't stressed, and had no other reasons to explain the sudden increase in pimples. So in April 2011 I went back to the dermatologist. She said that there was not any other facial medicine I could use that was stronger then the Tazorac I was on. She stated that she would be willing to put me on accutane. I knew about accutance and at this time wasn't ready to go with it because of the side effects. She instead said well stay on Tazorac at night, we will switch you to Aczone in the morning and I'll give you two months of Doxycyline. She also gave me clindamycin for my body acne.
So I went home and continued my routine with the added doxycyline and now aczone (instead of the benzaclin) hoping that my skin would return to how things were in 2010. After taking this course of action I saw no improvement and my acne remains. I had no improvements with my body acne after using the clindamycin for about 4 months. I continued dealing with the pimples that would pop up. I was now having 3 to 7 pimples on my face at any given time. Of course not all were huge but they were noticeable. The worst part is I work in a office environment with 8 other adults around my age. I am the only one who suffers from acne
.
Now keep in mind I have been dealing with acne since I was a teenager. I am now 26 years old and my battle continues. So after much thought and research I decided to go back to the dermatologist and let her know I was ready for accutane.
Well that visit was today. She gave me the go head on accutane. I received my I Pledge booklet today. I also had my first pregnancy test and blood work done. As long as all is well with that then I should be taking my first pill of accutane by mid December. I'm not sure of the dosage or anything yet. I will get that information once I return for my second pregnancy test.
I am excited. My dermatologist believes that my skin will clear up with just one 6 month round. She also told me it will help shrink my pore size and help end my oiliness problem. She also says that it will clear up my body acne. I am anxious though because I am dreading that initial breakout. Hopefully its not bad. But Honestly I am tired of my acne and the havoc it causes in my life and now I'm willing to deal with the side effects for a clear face.
Below are pictures I took today. I know a lot of you will look at them and say that i don't need accutane. My face is fairly clear right now with three lingering pimples. But don't let it fool you. Just last week I had 4 huge pimpled on my lower cheek. My face remains extremly oily. I have moderate back acne and mild chest acne (sorry no pics of this). I want to take this step and hope all goes well. I will keep a log and update with pics as I start my accutane journey.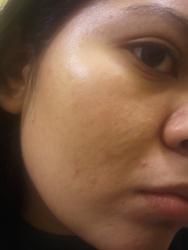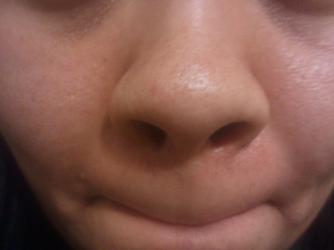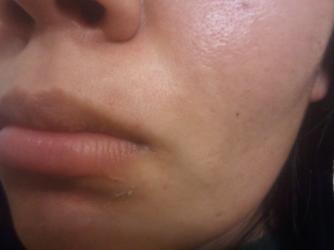 Edited by depressingface, 15 November 2011 - 08:59 PM.