Hey guys,
So I've had a bad case of acne every since college. It's very strange because I've never gotten any sort of acne until then. I think the acne may be due to stress. Anyways, I am a 21 year old asian male and I've made the mistake of popping all my pimples.
Whenever I pop them, I get scars or red marks such as the one in the picture. I'm not sure if it's a scar or red mark...or both.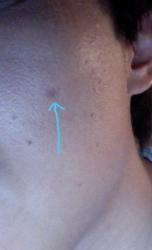 Anyways I was wondering if anyone had any suggestions in getting rid of these types of marks?
My original plan was to mix honey, oatmeal, and lemon juice and put it on my face every night. Then I would either use this product:
http://beautymakeupc...60-1-ounce.html
or this product:
http://www.amazon.co...z/dp/B005TU2GK8
as moisturizing agents.
However, I'm not sure if thats the best way. I was also considering using just this:
http://www.amazon.co..._pr_product_top
Any opinions? I appreciate the help in advance!